Your kitchen is the heart of the home. Paying attention to these kitchen remodel ideas will definitely give you more inspiration and perhaps some tips on how to improve your own kitchen.
After much consideration and hours of looking at some very interesting kitchen remodel ideas. Here is a list of my top 14 Inspirational and Actionable Kitchen Remodel Ideas.
I have organized the list from relatively cheap to expensive, according to homeadvisor.com. Also, at the bottom, you will find an overview of the total average costs.
Open Shelves to Get rid of Cramped-up Feeling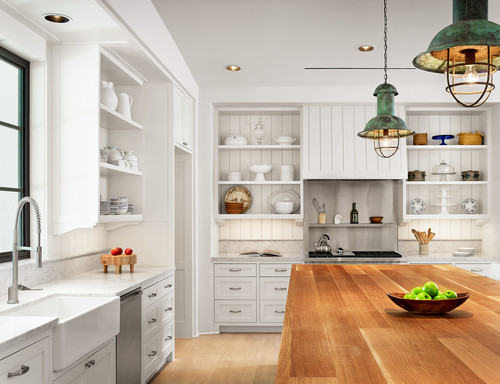 Photo by Dillon Kyle Architects (DKA) – Kitchen remodel ideas and designs
Open shelves in the kitchen do not let us have the cramped-up feeling. Also, the top cabinets make your room look even smaller. So, if you have a small space, you ought to make it look tinier if you do not plan the shelves properly.
Nevertheless, with open shelves, you can let people go gaga over the space that you have allotted to your kitchen. But how do you do it? Pick shelves that match the color and tone of the area around. Use natural hues or lighter ones that can bring in more light to it.
Leave at least 18 inches of space starting from the countertop to the lowest shelf of the room. Get a sophisticated look by decorating it with favorite cooking books, boxes, or pottery. You can also try displaying pot racks with spice or magnetic knife holders. Ensure that it doesn't clutter the area while you are showing this up as a display.
So especially when having a smaller kitchen and working on your kitchen remodel ideas I suggest looking into open shelves.
Average cost: $80 to $500
Use glass in numerous ways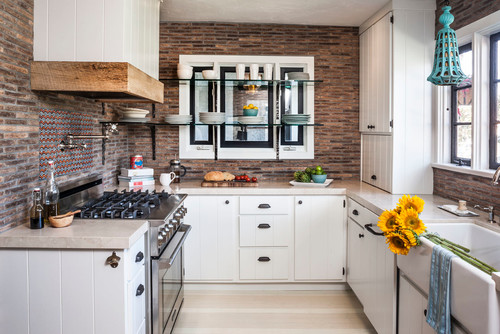 Photo by Lisa Berman Design – Browse kitchen remodel ideas
A beautiful kitchen stands out and adds intrinsic value to a home. It is one of the hardest tasks to keep the kitchen looking the best compared to other rooms. The use of glass cabinets, shelves, and backsplash gives it a spacious and airy look. It creates a wow factor to the tiny kitchen in a contemporary way. However, it will need a lot of maintenance all the time.
Average cost: $70 to $800
Exchange faucet, doorknobs and other hardware
When thinking of kitchen remodel ideas, try to bring a new and classy look. Exchange all faucets, knobs, and handles. Try to have a unique design rather than repeating the current style. Get a fresh new paint job done. If done in the right way, you will surely not be able to recognize your old kitchen again.
You can have a classy yet timeless look with nickel and brass hardware. While steel will give a contemporary and sleek look, metal will be your all-time favorite pick. To stay aligned with the new trend, try the push-to-open cabinets where the handles are milled in.
Average cost: $300 to $900
Give the kitchen walls some color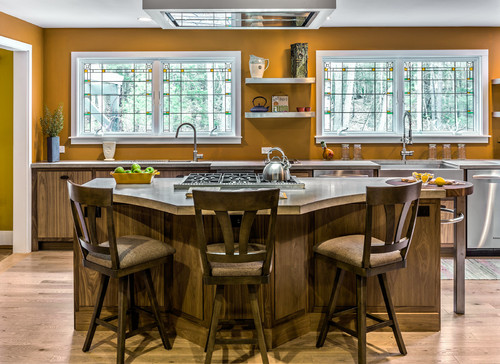 Photo by Mari Woods Kitchen Bath Home, LLC – Kitchen remodel ideas
Do you want to try a relatively cheaper kitchen remodel idea? If yes, then adding vibrant colors to your kitchen should be on your kitchen remodel list. A pop of color in this area will give your house a fun personality that matches yours!
Try adding pastel colors like nautical blues, jade greens, turquoise or pale pinks. You can also have bold colors if your kitchen is a little small. But at all times, go for a paint that is easy to clean ;-).
Trying to figure out what your color scheme should be? look at this coolors app it might help you decide on what colors to pick.
Average cost: $200 to $2.000
Change Your Backsplash
One of the most cost-effective and easiest ways to remodel your kitchen is by changing your backsplash. If you are tight on your budget, you can just have a quick color change. Indeed this can give you the fulfilling feeling of renovating the whole kitchen.
Backsplash offers you the luxury to make your own design. Choose subway tile if you want to get a more common feel to the kitchen. You can also use glass, stone veneer, laminate flooring planks, decals, tile, or wallpaper.
Average cost: $400 to $1500
Quick Cabinet Front Overhaul
Giving a paint or a quick varnish touch to your cabinets will make your kitchen look a whole lot newer. It will enhance the look of your kitchen without making you reconfigure or replace the old cabinets. Most importantly, it will not cost you much.
To ensure your hardware attachments don't get painted, remove the knobs, hinges, handles, or other hardware attached to the cabinets. After removing all the attachments, sand cabinet doors a little bit to make it even and smooth.
Choose from the various available color schemes online. You can also try giving the contrast color of your kitchen flooring to make it stand out.
Now, it's time to reattach the fittings for your convenience. You can even fit the modern attachments to your cabinets if you're bored with the old ones. Don't forget to make some adjustments to the hinges to fit appropriately.
Average cost: $500 to $4.000
Install New (Smart) Appliances
Most of the new houses generally have built a smart technology kitchen from scratch. But, it wouldn't be a problem even when you have an old house; you can still easily get a kitchen upgrade on a budget with smart appliances like microwaves, ovens, fridges, etc. These appliances will not only bring an aesthetic look but also are more energy-efficient. If possible, choose panel-ready appliances which will synchronize with the kitchen look and feel.
Average cost: $70 to $500 But honestly I believe this can go up to $5.000.
Turn up the light
Lightning is an important aspect while working in the kitchen. Try to have bigger windows to bring in natural light. You can also make use of LED lights. Give your kitchen a modern look with pendant lights and a mix of other styles like multi-color chandeliers, flush, or semi-flush recessed lights.
Use of proper lights will make your kitchen look spacious like incandescent lights underneath the countertop or spotlights above the island or at the cabinets. Ground beam lights against the toe plate will entirely change the look of your kitchen.
Average cost: $150 to $4.000
Change countertops
In the kitchen, the countertop is one of the most important parts. It is the main workbench. Therefore in your kitchen remodel ideas it is good to pay close attention to this part. Replacing the old with the new one will entirely facelift your kitchen. If your kitchen cabinets are dark in color, then choose light-colored countertops. Matte-finished countertops will add a modern look to your kitchen.
Having the same material to countertop, backsplash, and floor will add richness to your kitchen. Go for quartz countertop as it is an extremely tough material and is antimicrobial. Thus, it can practically last for a very long time.
The only other alternative that competes with the pleasing looks of quartz countertops is granite. But you should note that a granite countertop needs slightly more maintenance than quartz. A few other options that can be cost-effective are laminated wooden and marble countertops.
Average cost: $400 to $7.700
Opt for a Kitchen Island, No Matter the Size
One of my favorite trends of the 21st century for kitchen remodel ideas is the large multifunctional kitchen islands! It has pleasing looks and multifunctional uses.
Since we started having kitchen islands, we require much less space for wall cabinets.
They offer storage cabinet solutions, a place to fit under-counter appliances. They can also provide super comfortable seating for casual dining, drinking, and working.
You can have it in a range of materials such as laminated wood, wood veneer, quartz, or marble with a light-colored countertop. To give it a country look, use a high table or a butcher's block. Make sure to leave at least 36 to 48 inches of space on all the sides of the island.
Average cost: $100 to $10.000
Go for New Cabinets When Remodelling Your Kitchen
Cabinets define the usability and look of your kitchen. Installing new cabinets will boost the experience of your home. Nowadays, kitchen cabinets come in Ready to Assemble (RTA) form with all the hardware required for assembly.
RTA saves a lot of cost on labor charges. As a result, you save some extra bucks to spend on a variety of products. Nevertheless, traditional solid wood drawers with dovetail joinery also look good and last long.
Few brands from Sweden provide perfect fitting RTA with a durability of 20 years or more. After which, it is time to update your kitchen anyway.
Average cost: $1.700 to $9.000
Break down wall as part of your kitchen remodel
If you like to be always in trend, then this remodel idea is for you. Break the middle wall and make your kitchen the center of your home. This open kitchen idea will unify your living and dining areas. However, before breaking your wall, please consult your architect to check for any existing supports. If there are any, then you can make an arch to the wall, making it a creative and inexpensive option.
Also, if you break the wall, make sure living and kitchen flooring are the same to add sophistication and decency to the house.
Average cost: $4.000 to $25.000
Kitchen Remodel Ideas: Focus on Flooring
Flooring for kitchens gets more attention than anything else. Flooring manufacturers can produce numerous styles, colors, sizes, and textures with various materials. However, it might be a little expensive to change the entire flooring.
But, kitchen flooring gets messy a little faster compared to the rest of the house. So, it is wiser to choose an easy-to-clean material, such as cork, hardwoods, tiles, or ceramic.
Wooden flooring gives a warm look to the kitchen. It is easy to maintain and durable. You have various options to choose from, such as Oak flooring, which is highly long-lasting. Hickory flooring showcases good patterns and is harder compared to other woods. Ash flooring, also known as dent or scratch proof, can be used in busy kitchens. Maple flooring has a light natural finish and is suitable in trendy kitchen spaces.
Apart from wood, you also have various options like linoleum which is less expensive and gives a decent look. Marble is an expensive affair, but your kitchen will look classy. However, you must have floor heating installed underneath it as it gets colder.
Average cost: $13.500 to $47.230
Kitchen Remodel Ideas & planning
Remodeling a kitchen can be a tough job if not planned properly. You need to decide many things beforehand. Make a plan of what you want to renovate. From the list, determine the priority and work accordingly.
For example, create a layout and decide the timeline of work such as plumbing, electricity, and walls. List down do-it-yourself tasks which can save you a significant amount of money. Among all, a very crucial aspect is to determine your budget and stick to it. You can always have a buffer of 15 to 20 percent for miscellaneous and emergency expenses.
Average Cost: $4.000 to $60.000
Read On!
When you are planning to remodel, try to have as much open space as possible. Remodel with features and decor for flair, function, and style.
These trendy kitchen remodel ideas have focused on several things. It includes functionality, overall aesthetics, and maintenance. I hope this list serves as a guide for your grand or small kitchen remodel ideas. And, I wish you all the luck to renovate the most highlighted part of your house beautifully in the year 2021.
Now that you are on a roll check out our some Bathroom remodel ideas or Master Bedroom plans.